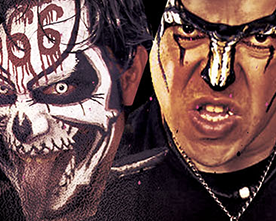 Pro Wrestling Revolution returns to the Madera Fair Grounds on Sunday October 11th. We return after 4 years.. and we are ecstatic to be back!
This show brings you Pro Wrestling RevolutionJr Heavyweight Champion, Juventud Guerrera, the debut of the controversial Hijo de Trump, and we give you 2 more, you have one of the world top juniors in Laredo Kid and ECW Alumni, Mosco de la Merced
If that was not enough… you have Brian Cage, Rey Bucanero, Bestia 666, Ultimo Panda, Los Campesinos, El Mariachi, Christina Von Eerie and so much more!
— SEVEN HUGE MATCHES —
PRO WRESTLING REVOLUTION JR TITLE
"La Migra" Colt Stevens vs. Juventud Guerrera
Vaquero Fantasma, Cazador & Mosco de la Merced
vs
Anarkia, Ultimo Panda & Rey Buccanero
"La Migra" Brian Cage vs. Laredo Kid
SPECIAL ATTRACTION
Hijo de Trump vs. El Mariachi
Vinnie Massaro vs. 'Familia de Tijuana" Bestia 666
Cristina Von Eerie vs. La Traviesa
Grappler III & Los Chicanos vs. Pantera Jr. & Los Campesinos