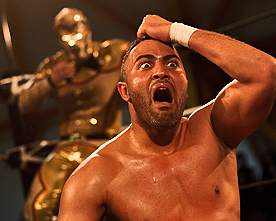 Pro Wrestling Revolution returned to San Francisco for our yearly fundraiser at John O'Connell High School in the Mission District. It was a great time for all, but especially for the fans. Every show we have there, we do all we can to give back to the community and help raise funds for the school, and this year was no different.
Athletic Director, Bob Gamiño has done an incredible job and gives every second of his free time and more to the students of his high school. Bob has given financial support to sport teams for transportation, prom bids, scholarships for graduation seniors and so much more!
We want to thank all who came out for a night of Lucha Libre for a great cause… ¡Viva!
Results:
Super Crazy over Rocky Romero – El Mariachi – Fuerza Guerrera
PRO WRESTLING REVOLUTION WORLD TAG TEAM TITLES: "King Fu Hustle" Willie Mac & El Ultimo Panda over Los Luchas
"La Migra" Brian Cage over "Familia de Tijuana" Bestia 666
Gallo Tapado Jr over Vaquero Fantasma
Los Chicanos w/ Sada Simone over The Grapplers – Los Campesinos  – Anarkia Jr & Cazador del Alma
Kianna Rivera over "La Migra" Savanah Riley
Click here for images: