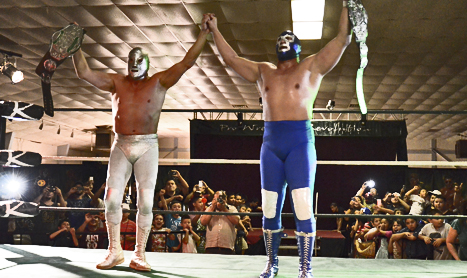 PRO WRESTLING REVOLUTION TO CROWN NEW TAG TEAM CHAMPIONS & RETIRE TITLES CURRENTLY HELD BY LEGENDS BLUE DEMON JR. & EL HIJO DEL SANTO
February 5, 2015 – SAN JOSE, CA
With the potentially career threatening injury suffered by El Hijo Del Santo last year, and the fact that the legendary luchador has not been able to return to the ring, Pro Wrestling Revolution has decided to vacate the World Tag Team Championships held by Hijo del Santo & Pro Wrestling Revolution World Heavyweight Champion Blue Demon Jr.
The duo originally won the titles on May 11, 2013 and has held them for over 636 days and was recognized as champions not only in the United States, but in Mexico as well where their reign included a title defense on a TodoXTodo show in Mexico City.
"We are happy to have Demon and Santo keep possession of the actual championship belts as a symbol of their record breaking reign and their status in both PWR and lucha libre history," said Pro Wrestling Revolution promoter Gabriel Ramirez. "And now, as this chapter in our tag team title history closes, we look forward to opening the next chapter and crowning new champions in the months to come."
Pro Wrestling Revolution returns to action on February 28. 2015 with new tag team champions to be crowned in a match between the top two contenders in "Kung Fu Hustle" Willie Mac & Ultimo Panda and "Los Luchas" Phoenix Star and Zokre.