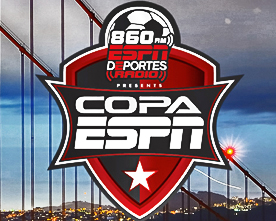 Pro Wrestling Revolution is returning to Morgan Hill on Saturday January 17th at the Morgan Hills Sports Complex, as we take part in COPA ESPN! COPA ESPN SF is presented by our media partners ESPN Deportes 860 AM. We will have matches through out the day, starting at 8am, featuring all your favorite luchadores, like El Mariachi, "El Chicano" Memo Cuveas, Anarkia Jr. and many more!
COPA ESPN San Francisco is an invitational youth soccer tournament that looks to bring together the strongest soccer teams in the Bay area. Age groups finalists each qualify for the COPA ESPN National Championship.
COPA ESPN has grown from 36 youth teams playing in the first COPA ESPN to a 15 city tournament tour featuring hundreds of teams in each market across the U.S. playing for the right to be called COPA ESPN National Champions.
Top club, academy and recreational teams will be chosen to compete in their city (or regions) championship event. Each division's winner and runner up will qualify for the first ever COPA ESPN National Championship to be played in August 2016.
So come out and enjoy the best of two sporting worlds, soccer and lucha libre…¡Viva la Revolución!