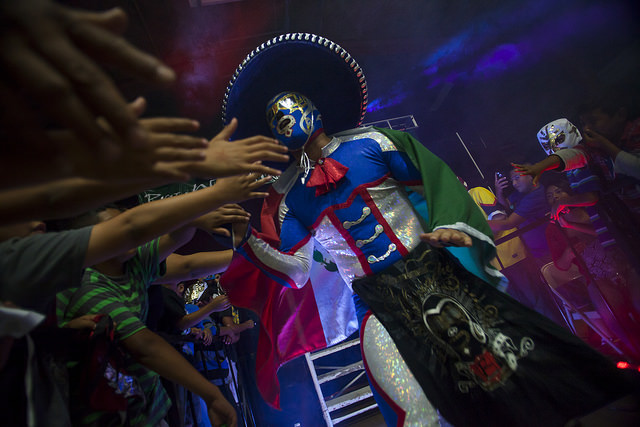 Pro Wrestling Revolution returned to King City on October 4th 2014 at the King City Fairgrounds. The last time we were there was in 2009 and we are all excited to be back! If you take a look at the show roster from the last time we were there and the one appearing in October, it is day and night and I believe our strongest card there… yet.
The sold out crowd told us what we knew, it had been too long since our last appearance, and the town loves their Lucha Libre.
The talent coming out of the Pro Wrestling Training Academy has a strong presence, with Los Campesinos, "El Chicano" Memo Cuevas and our newest zebra on the roster.
Results:
Alex Koslov & Juventud Guerrera over Los Luchas
La Migra" Derek Sanders over El Mariachi
"Kung Fu Hustle" Willie Mac & El Ultimo Panda over Orion & Virgil Flynn
Vaquero Fantasma, Cazador del Alma, Damian 666 over  El Gallo Tapado, Anarkia, Piloto Suicida
"La Migra" Savanah Riley & Colt Stevens over Kianna Rivera & "El Chicano" Memo Cuevas
Los Campesinos over The Grapplers III & VI
Click here for the images: