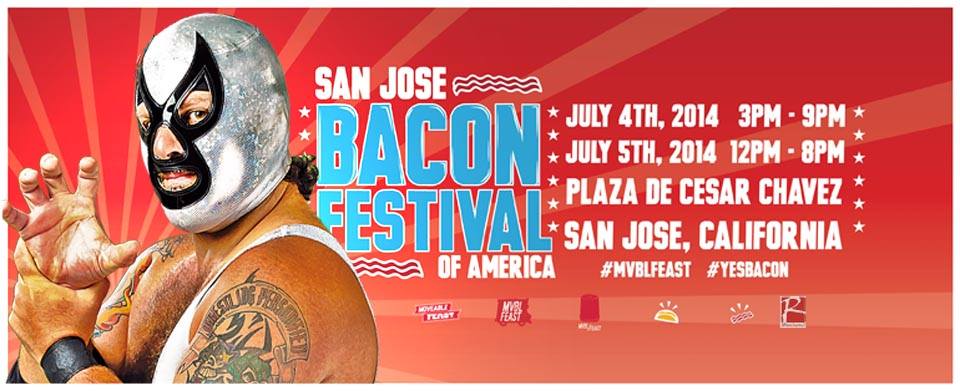 Pro Wrestling Revolution is excited to be working with the same team from the San Jose Taco Festival, and be part of the second annual Bacon Festival. Yes, bacon. We will be having matches through out both days. Make sure you check http://baconfestival2014.sched.org to get times for all the entertainment and especially when we will be having matches.
As always, performing in our hometown of San Jose, is always fun for all of us at Pro Wrestling Revolution. If that was not enough come out on July 4th, you get bacon, pro wrestling and fireworks! It does not get any better!
This year, MVBL Feast will be celebrating our Independence Day TWICE with the San Jose Bacon Festival of America. Returning after last year's inaugural Bacon Festival — they have revamped and rebooted the festival (now with an exclusive fireworks viewing area on the 4th!), which is now offering:
Double the food trucks!
Double the event days!
Double the bands!
New bacon food booths!
New bacon bank (more bacon)!
New bacon merchandise!
New fireworks viewing area on the 4th!
New location at Plaza de Cesar Chavez!
New Michael Jackson Dance Party!
New – Pro Wrestling Revolution!
Now with actual square dancing!
Now with giant bubbles!
So come on out and celebrate with us!
2nd Annual Bacon Festival of America
Plaza de Cesar Chavez
July 4th, 3 pm to 9 pm (exclusive fireworks viewing area)
July 5th, 12 pm to 8 pm
$10 pre-sale, $12 at the door, kids free (0-11)
All food portions are $5 or less!
Tickets on line here!