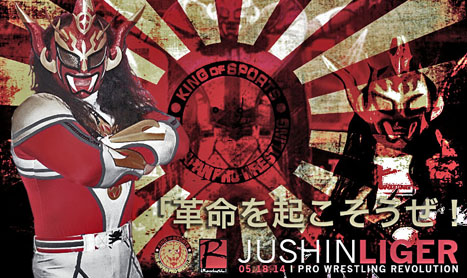 Pro Wrestling Revolution has reached many levels of milestones over our 6 plus years, from television deals, documentaries, and in addition to working with top talent that have a major impact on our industry. We have had the pleasure of working with such legends as Mil Mascaras, who had an influence on myself as a child, Hijo del Santo whom has graced our shows as we build a solid relationship with him and Todo X el Todo, and of course Blue Demon Jr., who has made an positive impression on all our talent, who has represented our company worldwide and become part owner of Pro Wrestling Revolution.

At this time, it is with great honor to be able to add to the list of growing milestones, with the assistance and cooperation of ROH, www.rohwrestling.com; on May 18th, 2014, Pro Wrestling Revolution welcomes from New Japan Pro Wrestling "Thunder" Jushin Liger. His list of accomplishments are too long to mention; but in the same breathe are very notable. This will be another historic day at Pro Wrestling Revolution that all of our staff and wresters will always remember.

Mark your calendars for a May18, 2014, a date not to be missed as Blue Demon Jr,. will take on Jushin Liger for the Pro Wrestling Revolution World Heavyweight Title! Get your tickets here!

¡Viva la Revolución!