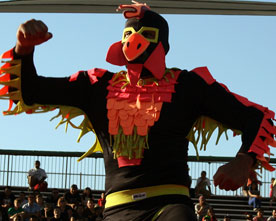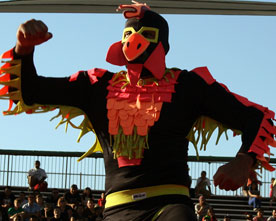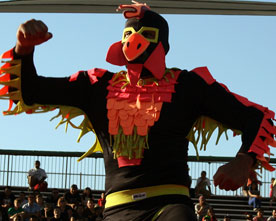 Pro Wrestling Revolution returned to the Santa Clara County Fair, and we could not be any more thankful for the experience. Our company is based out of San Jose, so growing up, going to the Fair was an exciting time to enjoy the rides, food, and all of the entertainment the fair had to offer, and now, being featured at the Fair, and that is fabulous.
The crowd in the Main Stage stands was larger than last year, cheering and screaming, all having a great time. We saw a diverse crowd and we are proud to be able to entertain them all. The amount of kids that were smiling and reaching out for autographs, and a "high-five" was something our talent will not soon forget.
This show had it all, from El Mariachi, Pantera Jr and Ultimo Panda walking around with a mariachi band, to the debut of Los Gallineros, who turned heads!
Thank you Santa Clara County Fair and we will see you next year!
Here are the results:
Pequeño Halloween over Pequeno Oriental
Kafu and El Dinamita over Oliver John and Timothy Thatcher
El Mariachi over Derek Sanders
Ultimo Panda & Los Gallineros over Famous B & La Pantera & Willie Mac
Cazador del Alma over El Vaquero Fantasma
Here are the images: