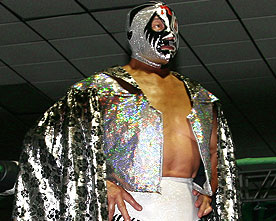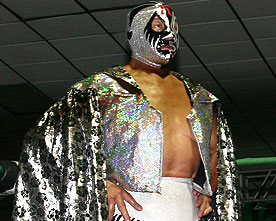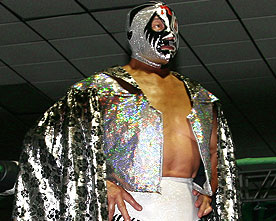 Pro Wrestling Revolution returned to Watsonville at the Santa Cruz County Fairgrounds to a packed house that made the show…. that much better. The fans got to see new faces, and legends. The show featured Blue Demon Jr., La Migra, Anibal Jr. and the Legend of Wrestling from around the world, Mil Mascaras.
The show had great matches from top to bottom where each match out did the next… and when the music hit for the Main Event, the buzz in the building was something incredible and a feeling all should experience.  What took place at the end of the night, was not enough to put a tarnish on the show, but defiantly a message was sent by La Migra to all.  El Patron – Oliver John, pushed the envelope and made sure he made his point to everybody and pointed out to Blue Demon Jr, Hijo del Santo, Todo X el Todo what he felt about them and what was coming.
We hope to have Mil Mascaras grace Pro Wrestling Revolution in the near future…. and we will return to Watsonville in January of 2014.
Here are the results:
Blue Demon Jr. & Mil Mascaras over "El Poderoso" KAFU & El Dinamita
"El Patron de La Migra" Oliver John over Anibal Jr.
Vaquero Fantasma over Cazador del Alma
El Mariachi over Pantera
La Migra over Los Gallineros
Drake Younger over Famous B – Fantasma de la Opera – Wille Mack -. El Ultimo Panda