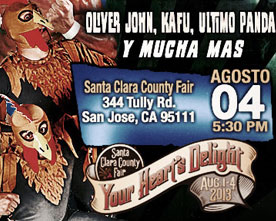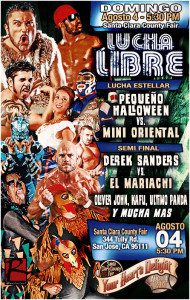 Pro Wrestling Revolution makes its debut at the Santa Clara County Fair, and we could not be any more excited. Our company is based out of San Jose, Â so growing up, going to the Fair was an exciting time to enjoy the rides, food, and all of the entertainment the fair had to offer, and now, we are part of the Fair, and that is fabulous.
Join us at the Santa Clara County Fair on August 5th at 5:30pm,we are performing on the Pavilion Stage. Special ring side seating is $15 PreFair or $20 regular price (does not include admission). Don't wait to go online to purchase your PreFair Discount Pricing Ticket Available for a Limited Time Only!
For more information, please visit http://www.ticketpeak.com/fairgrounds
¡Viva la Revolución!
LUCHA ESTELAR – LOS MINIS
Pequeño Halloween vs. Pequeno Oriental
SPECIAL ATTRACTION
Kafu and El Dinamita vs. Oliver John and Timothy Thatcher
PRO WRESTLING REVOLUTION JR HEAVYWEIGHT TITLE
Derek Sanders vs. El Mariachi
SIX MAN TAG
Ultimo Panda & Los Gallineros vs. Famous B & La Pantera & Fantasma de la Opera
Bryan Cage vs. Willie Mack
Cazador del Alma vs. El Vaquero Fantasma