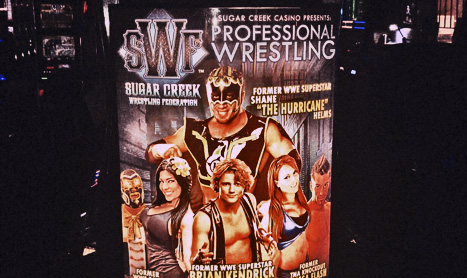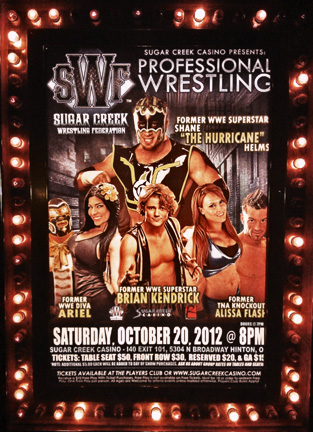 Pro Wrestling Revolution returned to Hinton, Oklahoma for the second time this year at the Sugar Creek Casino. Our first trip was in May, where we brought a Lucha Libre show, but this time around, we were asked to provide a Pro Wrestling show, and that is exactly what we did. Pro Wrestling Revolution has always prided itself in being able to provide Lucha Libre and or Pro Wrestling.
This show we provided  former talent from WWE and TNA. Featuring Hurricane Helms, Paul London, Alissa Flash and Ariel, and of course stars from Pro Wrestling Revolution.
All the matches were solid from the opener to the Main Event, with Famous B and Paul London getting a standing ovation. Pro Wrestling or Lucha, KAFU and El Mariachiâ"¢ were received with open arms with big chants of "Mexico Mexico Mexico" as they faced the Border Patrol®. The main event was fun, entertaining  and hard hitting all at once. Alissa Flash put on a wrestling clinic, while Hurricane Helms led their team to victory,
Thank you Oklahoma for the hospitality, from the staff in the Casino, the Event Center and the Cafe, all will be a big part of our memories of this show.
¡Viva la Revolución!