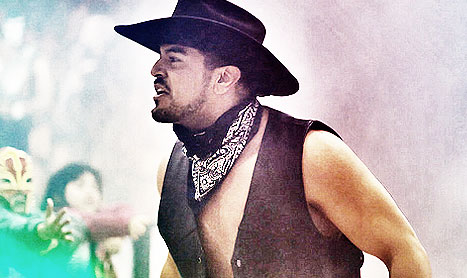 My journey in this world of Professional wrestling began in spring of 2008, when after searching for a wrestling school I landed in the self-proclaimed "#1 school in the country." after signing up and over paying my fees, I began training in January of 2009. Training was slow an lacked in some departments. It was in march of that same year that I met Gabriel Ramirez, Owner and operator of Pro Wrestling Revolution. We began a friendship and I was offered a Ring Announcer position in his company. I continued my training in the school in Hayward but I began to become unhappy with my status and progress. I felt like I was being held back purposely.
It was in 2010 when PWR opened their own Training Academy, and I became interested in joining. I stayed loyal to my school in Hayward until I was disrespected and humiliated at an event, and I knew it was time to leave. I spoke with Gabriel, the Lucha trainer, Vaquero Fantasma, and pro wrestling trainer, KAFU and spoke to them about me wanting to join their academy. They welcomed me with open arms! And thus began a new chapter in my journey. I was retrained in everything, from my lock-ups to a simple armbar. I learned more in 2months than I did in my wasted year and a half up north.
I learned many new things to be successful in his business. I am being trained like they are trained in now and not like they were trained in the 1970's. I'm honored and proud to be named one of the first Pro Wrestling Revolution Academy graduates and I encourage all that are unhappy or simply wanna learn more and expand your abilities to join our academy! Our doors are open to all!
¡Viva la Revolucion!