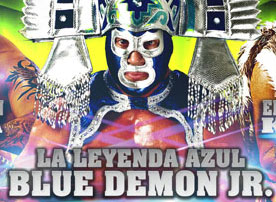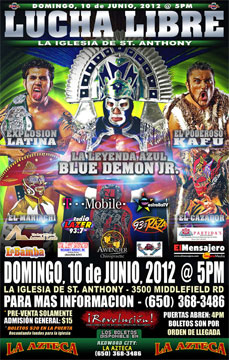 Pro Wrestling Revolution makes its debut in Redwood City at St. Anthony's Church on Sunday, June 10th. We are excited to be a part of this event as we help raise funds for the Church along with many sponsors, T-Mobile, Awender Chiropractor , La Bamba Magazine, El Mensajero, and so many more.
Taking part in this event, from Mexico City, Mexico, Pro Wrestling Revolution Heavyweight Champion – Blue Demon Jr., as many know, he very big in working with charities and fundraisers and we can't thank him enough for taking part. Joining Blue Demon Jr. are all your Revolution stars, KAFU, El Mariachi, El Ultimo Panda, The Border Patrolâ"¢, La Pantera Jr., El Dinamita and so many more!
We encourage to all come out and enjoy a great night of Lucha Libre and help give back to the community….¡Viva la Revolución!
MAIN EVENT
Vincenzo Masarro, "Border Patrol" Derek Sanders & Oliver John
vs.
El Mariachi y "El Poderoso" KAFU y "La Leyenda Azul" Blue Demon Jr.
MANO A MANO
Orion vs. "Explosion Latina" El Dinamita
SPECIAL ATTRACTION
The Grappler III vs. El Galan
THREE WAY DANCE
"Notorious" Famous B. vs. El Ultimo Panda vs. CJ Kruse
Persian Dragon vs. La Pantera Jr.