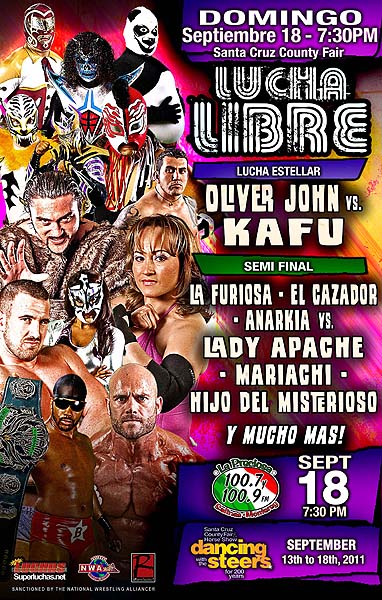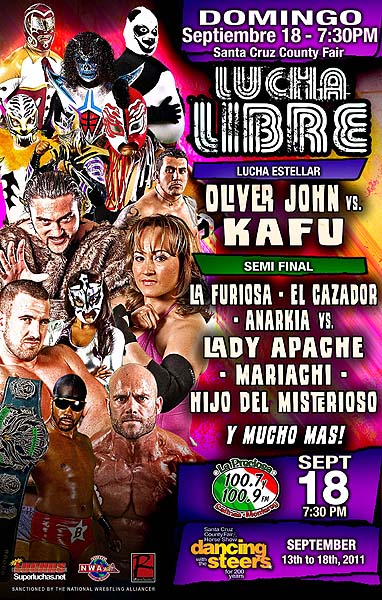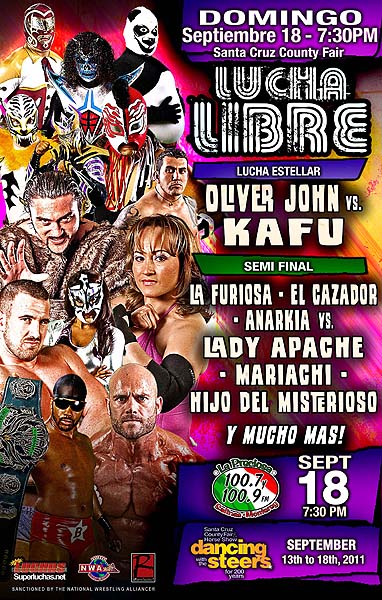 Pro Wrestling Revolution heads back to Watsonville for the Santa Cruz County Fair on Sunday September 18th, 2011. This is our third consecutive year and we are looking forward to this night. The crowd of nearly 2,000 people taking in the show is an experience we are so thankful for and always makes for an exciting time.
We are excited to have back with us is Pro Wrestling Revolution's 1st Woman's Champion, Lady Apache, as she makes her way from Consejo Mundial de Lucha Libre (CMLL) Lady Apache is by far, one of the top female wrestlers in the world.
We encourage all fans to come out and enjoy a day at the Fair and then an exciting evening with Pro Wrestling Revolution. The show is free with your paid fair admission!
MAIN EVENT
"El Poderoso" Kafu vs "El Patron" Oliver John
SPECIAL ATTRACTION
Lady Apache and Hijo de Misterioso & Mariachi vs. La Furiosa & Rey Tigre & Cazador del Alma
PRO WRESTLING REVOLUTION JR TITLE
Famous B vs El Dinamita vs El Galan vs Bryan Cage
Mr. Wrestling IV & Kung Fu Panda vs. "Persion Prince" Kia & La Pantera
Derek Sanders vs. White Shadow