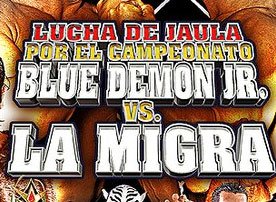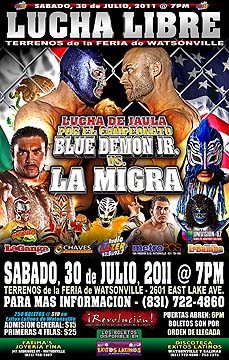 Pro Wrestling Revolution returns to Watsonville on July 30th, 2011 at the Fairgrounds, with its biggest show of 2011. This show has so many elements that makes it special. We have the Revolution debut of female wrestler Thunderkitty, the debut of Kung Fu Panda, and the Radio Lazer challenge.
The main event, the match between the Pro Wrestling Revolution Heavyweight Champion "La mascara del demon azul" Blue Demon Jr. taking on, the Border Patrol's â"¢ Oliver John, as they put all the years of anger, rage  and backlash, and bottled into a cage!
PRO WRESTLING REVOLUTION HEAVYWEIGHT TITLE – CAGE MATCH
Border Patrolâ"¢ – Oliver John vs. Blue Demon Jr.
RADIO LAZER SPECIAL ATTRACTION
Hijo del Misterioso y Salvador Prieto vs. " Rey de la Guillotina" Anarkia y KOKIS
Border Patrolâ"¢ – Bryan Cage vs. "El Poderoso" KAFU
La Pantera vs El Dinamita
Grappler III & Thunderkitty & Cazador del Alma vs La Diamante & Kung Fu Panda & Mr Wrestling IV
El Mariachi vs. Famous B