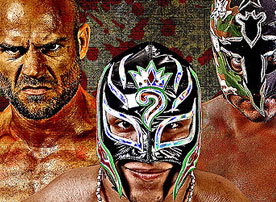 VIVA LA LUCHA RETURNS TO PPV ON FRIDAY, APRIL 29TH WITH "BATTLEGROUND" FEATURING ACTION FROM MEXICO & THE U.S.
Hijo De Rey Misterio, Oliver John, Vaquero Fantasma, Los Villanos, Aeroboy, Violento Jack, Amnesia, and Los Oficiales among the star studded roster.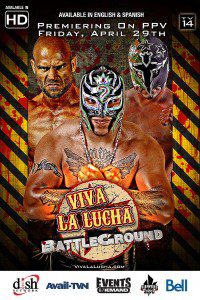 For almost a year now, the Viva La Lucha pay per view series has been delivering exciting lucha action from both sides of the border to fans throughout North America. VLL events have been the only place lucha aficionados have been able to see action unavailable on free tv from groups including Perros Del Mal, NWA Mexico, XLAW, IWL, and Pro Wrestling Revolution. Now, the boys of Pro Wrestling Revolution are back for more as Hijo De Rey Misterio teams with Anarkia to battle Vaquero Fantasma and Amnesia in a tag team war. Plus, the PWR tag team titles are on the line when champions, The Border Patrol (Derek Sanders & Brian Cage) defend against the team of the wily vet El Hijo Del Cupacabras and the rookie El Mariachi. And, former PWR Heavyweight and NWA Heritage champion "El Patron" of the Border Patrol, Oliver John, is out to snap his losing streak. But, that will be a HUGE task when his opponent is "El Poderoso" KAFU.
And then the Viva La Lucha cameras head south of the border for 4 big matches from DTU in Mexico! First, 7 students will make their in-ring debuts as they battle it out to steal the spotlight and try to cement a spot on future Viva La Lucha broadcasts. Then, it's Old School vs. New School as lucha legends Villano III & Villano IV team to battle former AULL and GLC tag team champs Aeroboy & Violento Jack. Viva La Lucha fans will also get a chance to see one of the hottest trios in Mexico today, Comando Negro, Oficial AK-47 & Oficial 911, as they face the teams of Pesadilla, Hormiga & Paranoiko and Robin Maravilla, Sadico & Yakuza in a 3 Way Trios War. And then in our main event it's a 10 Man Gauntlet Match that Viva La Lucha commentator Todd Keneley has called "the most exciting match we've seen to date! The action here was unbelievable and I actually can't wait to see it again."
Viva La Lucha: Battleground debuts on Friday, April 29, on cable systems throughout the U.S. and Canada and on Dish Network on Pay Per View and On Demand. Check your listings for times. As with all VLL spectaculars the event can be purchased in HD where available.
For more http://www.VivaLaLucha.com