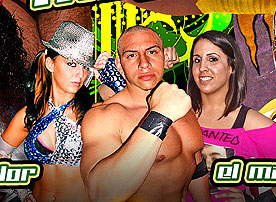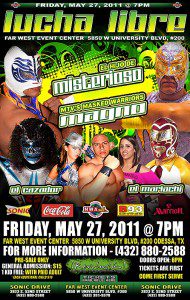 Pro Wrestling Revolution expands into a different state for its show, as we make our way to the state of Texas. This is our debut event in the state but we have plans to do shows 3 to 4 times a year. The response has been met well with support from the local community with sponsorships from Sonic, B93, Marriott, and of course Coca-Cola.
Pro Wrestling Revolution would like to thank the National Wrestling Alliance®, David Marquez and Carmine DeSpirito for all their help!
Our show will be held at the Far West Event Center, a 33,000 sq ft. beautiful location, and we look forward to working with them.
LUCHA ESTELLAR
"Awesome" Andy, Maquina 45 Jr. y Magno
vs.
Cazador del Alma , Krueger y El Hijo de Misteroso
WOMAN'S MATCH
La Reyna Pink vs. Darci Drake
MANO A MANO
Fusion vs. Tigre Negro
Nathan Sin vs. El Mariachi
Jastin Taylor vs. "Showcase" Shance Williams