VIVA LA LUCHA: RETRIBUTION – PREMIERES TONIGHT ON PAY PER VIEW!
Main Event Features A Match Over Two And A Half Years In The Making As "La Leyenda Azul" Blue Demon Jr. Challenges Pro Wrestling Revolution Heavyweight Champion Oliver John For Gold In Mexico City!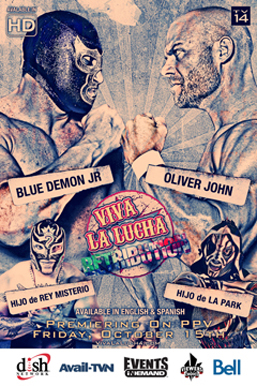 Viva La Lucha returns to Pay Per View on Friday night, October 15th, with it's most star-studded and action packed event to date direct from Mexico City and the Lucha Libre Experience Expo.
In the main event, former NWA Worlds Heavyweight Champ and lucha legend Blue Demon Jr. will have his chance at retribution against a man who can only be described as his arch nemesis, the Pro Wrestling Revolution Heavyweight Champion, "El Patron of The Border Patrol" Oliver John. For two years John chased Demon in an attempt to become NWA Worlds Champ. But, the tables turned when Demon lost the title back to Adam Pearce and was now on the outside looking in. But, legends are called that not because of single wins and losses. They are called that for the totality of a storied career. And Demon refocused his energies on finally silencing his harshest critic in John. Realizing that he was now in the driver's seat, El Patron wasn't going to provide an easy path. At Viva La Lucha: Revolution, Demon had challenged John to face him one-on-one in Mexico. Instead of heading across the border, the PWR champ called the camera crew out to the U.S./Mexico border and delivered a message to Demon, saying that there was no way that he was going to step into his "turd-world" country and granting him a shot. Not wanting to disappoint fans, Viva La Lucha producers showed fans a never-before-aired match from just a short time before as Demon and John battled inside a steel cage and with the help of his fellow Border Patrol compatriots and the lucha turncoat Vaquero Fantasma, the champ was able to retain his title. But claiming he would not cross the border turned out to be just one of John's many mind games, because as Demon was closing the PPV by telling John he'd face him any time, anywhere, he was attacked by a masked man who turned out to be John himself.
At Viva La Lucha: eXtreme Rebellion, Demon battled Vaquero Fantasma and was able to put the turncoat away via submission before The Border Patrol hit the ring and Oliver told Demon that he would finally grant him his shot and that he was willing to do it, but it was going to be in Demon's hometown, Mexico City, so that John could end the legacy once and for all return to the United States both with his title, and with the bloody mask of a fallen hero. John said he wanted to wash the blood off his hands with the tears of the children of Mexico City once their hero was broken at his feet!
So, tonight, on Viva La Lucha: Retribution, the PWR Heavyweight title is on the line direct from Mexico City. Will Oliver John be capable of beating Demon on both sides of the border or will this truly be a night of retribution for La Leyenda Azul?
7 more matches pack the biggest Viva La Lucha PPV to date including:
Hijo De Rey Misterio & Hijo De LA Park & El Angel vs. Black Warrior & Bestia 666 & TJP
Hijo De Rey Misterio's feud with Perros Del Mal continues in a match that sees the PPV debuts of two more sons of lucha legends in Hijo De LA Park and Bestia 666, the son of Damien 666. Damien has attempted to stack the deck in his son's favor and recruited former CMLL mega star and champion more than a dozen times over, Black Warrior, and American sensation TJP who has not had much luck in his own battles against Los Perros and decided to take up Damien's offer to "join 'em" provided his helps win the match for his son.
Leyendas De Lucha Match: Solar & Black Terry vs. Negro Navarro & Ricky Santana
If you are a fan of classic wrestling, this is a match for you. The most technical bout in Viva La Lucha history, it was so good that fans in the arena started throwing money in the ring at the conclusion of the bout. Really not much more can be said. It's truly a clinic in the ways of solid technical lucha libre.
Three Way Hardcore War: Supreme vs. Damien 666 vs. X Fly
At Viva La Lucha: Revolution, the XPW King of the Deathmatch, Supreme, headed to Mexico to prove that he was indeed the most hardcore wrestler in the world. Thanks to outside interference from Damien's stablemates, in the end Supreme was pinned by the former XPW Tag Team Champion, but not before he had pinned X Fly. Damien challenged Supreme to a one-on-one bout for his KOTDM belt, but then attempted to change the rules when he added X Fly to the match just moments before it took place. Supreme may be a bad ass, but he's not stupid. See what transpired when Mexico City got hardcore!
Trios Match: Pesadilla & Radge & Heddi Karaoui vs. Drastik Boy, Konami, & Naruto
Pesadilla and Radge are students of Super Crazy, Drastik Boy and Konami students of his cousin Crazy Boy, and Karaoiu and Naruto both trained at the Inoki Dojo in Los Angeles. Which team has what it takes to come out on top and is it the French shoot fighter Karaoui or the kamikaze kid Naruto who will represent the Japanese dojo the best?
Tag Team Match: Celestial & Cosmico vs. Mr. Agulita & Talisman
Don't miss a minute of the PPV becuase it opens with a high flying tag team match that includes the most spectacular dive in Viva La Lucha history, a moonsault from over 20 feet in the air! Be sure to check out the preview video of Retribution for more great highlights from this one!
PLUS
We announce the formation of the Masked Republic development system and the working agreement between Masked Republic and the Pro Wrestling Revolution and Santio Brothers Wrestling Academy schools and give viewers to see the first two development stars in action as SBWA's "Latin Explosion" El Dynamita Rico Dynamite and Famous B go one-on-one on a Pro Wrestling Revolution card and the PWR Jr. Heavyweight Title is on the line as champ Mr. Wrestling IV defends against the Border Patrol's Derek Sanders.
The theme song for Viva La Lucha: Retribution is "Let's Get Ready To Stumble" by New York hardcore band Last Call Brawl. For the Viva La Lucha remix of the "Let's Get Ready To Stumble" music video featuring highlights from the Pay Per View, check out the preview show in the On Demand section of your cable or satellite carrier or log on to VivaLaLucha.com. For more on Last Call Brawl and to hear the official Retribution theme song and more, log on to http://www.MySpace.com/LastCallBrawl.
It's the biggest Viva La Lucha lineup yet and it all comes to Pay Per View TONIGHT! Fans serviced by iN Demand, can catch the premiere at 7 PM Pacific/10 PM Eastern or check your local cable or Dish Network listings for details.