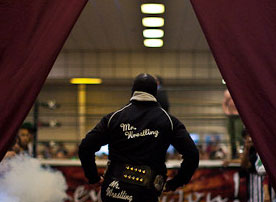 Pro Wrestling Revolution was welcomed back with a night of excitement, new talent and a new champion crowned. An exciting crowd of nearly 1000 fans came out and had a great time. We can't thank our team enough for all the hard work. Our new students for being there and taking in the hard work from morning till nigh-time. our trainers, new talent than impressed everybody and our core of talent that has been doing this from day one…
This night, we lost a champion, gained a new one and lost one… Of course, this doesn't make sense, but that is what happens when you deal with Oliver John and the Border Patrol. We want to thank IGF Officials for being present and as-well to the all the press from Tokyo, Japan. We saw the debut of The Grappler III, Bryan Cage sent home packing, and new tag champions. Oliver John seems to be losing control.
Gracias Watsonville, thank you very much, we will see you September 19th at the Santa Cruz County Fair… ¡Viva la Revolución!
Here are the result and the images!
Mascara Sagrada & KAFU over Vaquero Fantasma & Misterioso

Atsushi Sawada over "Border Patrol" Oliver John to become the NEW NWA Heritage Champion

El Galactico over El Cazador

Mr. Wrestling IV ver "Border Patrol" Derek Sanders

The Grappler III over "Polyester Express" Mondo Matt

Vinnie Massaro over Bryan Cage , Hero Tiger , El Hijo del Chupacabra

"Latin Explosion" El Dinamita over Famous B