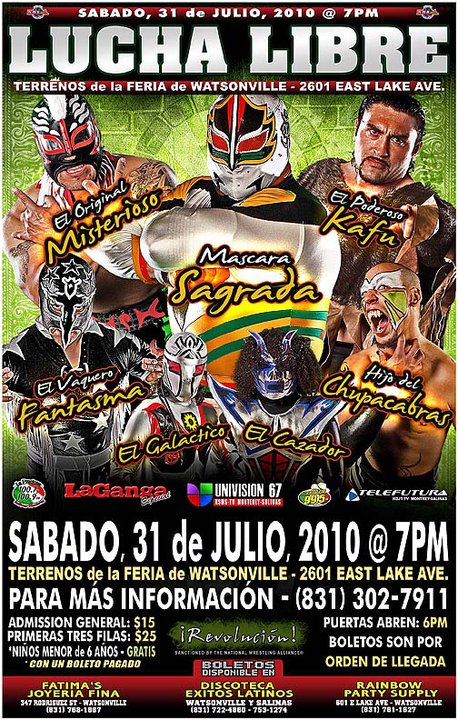 Pro Wrestling Revolution returns to Watsonville on July 31st at the Watsonville Fairgrounds. We bring you many new faces for this event, and looking forward to what we have in-stored.
With the recent announcement of Atsushi Sawada, from Inoki Genome Federation (IGF), being given a shot at the NWA Heritage Title, giving the show another international feel and look as we have Mexico's Misterioso and Mascara Sagrada joining us on this night.
All that being said, making his Pro Wrestling Revolution debut is Hero Tiger, who will turn some heads after it is all said and done. We welcome the additions of the Grappler III and El Dinamita, exciting things are happening to our roster. An incredible line up, with many faces from around the world!
LUCHA LIBRE MAIN EVENT
Vaquero Fantasma & Misterioso vs. Mascara Sagrada & KAFU
NWA HERITAGE TITLE
Atsushi Sawada vs. "Border Patrol" Oliver John
El Cazador vs. El Galactico
PRO WRESTLING REVOLUTION JUNIOR TITLE MATCH
"Border Patrol" Derek Sanders vs. Mr. Wrestling IV
"Polyester Express" Mondo Matt vs. The Grappler III
FOUR CORNERS ELIMINATION MATCH
Bryan Cage vs, Hero Tiger vs. El Hijo del Chupacabra vs. Vinnie Massaro
"Latin Explosion" El Dinamita vs. Famous B
Get your tickets online here!