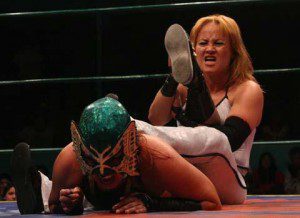 Pro Wrestling Revolution's Womans Title was defended and changed hands in Mexico at Arena Puebla for Consejo Mundial de Lucha Libre (CMLL). It is such an honor to have our title defended in this manner. We want to thank CMLL for allowing this to take place.
The match was between Lady Apache, champion, and Princesa Sugey. Lady Apache took the first fall and seemed on path a straight fall win when Sugey pulled off surprise fujiwara armbar to steal the second fall. Sugey's been doing that a lot lately. Sugey blocked a move on the top rope and landed on of her own to take the match. New Champion!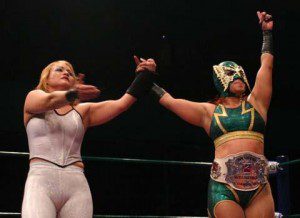 Princesa Sugey dio la gran sorpresa el pasado lunes en vencer a Lady Apache y coronarse como nueva campeona femenil de Pro Wrestling Revolution. Lady no pudo hacer nada para lograr la primera defensa. Recordemos que Lady se convirtió en la primera campeona femenil de dicha empresa en los Estados Unidos cuando derroto a Alissa Flash.
La batalla fue muy difícil al final la victoria fue para la ruda. En la imagen Sugey ya porta el cinturón, mientras lady reconoce su derrota.