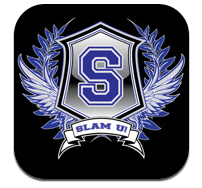 Pro Wrestling Revolution athletes, Oliver John, Ulysses, Cheerleader Melissa and Christina Von Eerie are all on SLAM U!, the brand new iPhone application from Fordela.
Step inside the ring with Slam U!, the professional wrestling instruction application for your iPhone or iPod Touch. Slam U! is the first in our Squared Circle series of professional wrestling instruction applications. It is an easy-to-use app that utilizes videos with detailed explanations by experts to demonstrate the fundamentals of professional wrestling.
Your instructors in this application are professional wrestling superstars, "Old School" Oliver John and "Cheerleader" Melissa Anderson. Oliver and Melissa are two of the top professional wrestlers in the world and have a wealth of experience and knowledge about the sport of professional wrestling. Assisting Oliver and Melissa will be female rookie sensation, Christina Von Eriee and the latin explosion, Ulysses.
Features:
All 23 videos were professionally shot inside a regulation professional wrestling ring.
Share your progress with friends on Twitter & Facebook.
Videos include:
Basics
Holds
Attacks
Counters
Pins
If you have an iPhone, this is one of those apps you need to have on your phone. You can get it here!