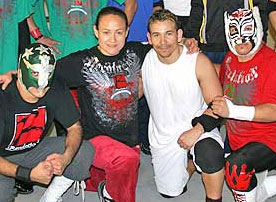 Pro Wrestling Revolution students at our Training School were greeted by a special trainer this past Friday night. As the team walked in, Lady Apache from el Consejo Mundial de Lucha Libre in Mexico, was there ready to see them in action and also lend a hand and share her knowledge of being in the ring for over 20 years.
The students left with a new admiration for this wonderful woman and thankful for such an opportunity. We look forward to her coming back and also new guest instructor for our students. Nobody else in the Bay Area can present you with such opportunities, nobody.
If you are looking to be trained or retrained and share these opportunities like our current students, please fill out our online application and a trainer will be in touch.