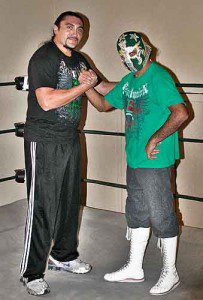 It is with great pleasure for Pro Wrestling Revolution to announce that KAFU has agreed to a 3 year contract to become the new Head Instructor at Pro Wrestling Revolution's Training School. KAFU has traveled around the world and brings a trainer with this expereince that nobody, nobody, can provide in the Bay Area.
Puerto Rico, Portugal, Mexico and his last employer being World Wrestling Entertainment, Inc. (WWE), we are confident that this has the ability to bring knowledge to many aspiring future wrestlers, and current wrestlers who may not be satisfied with current or past training.
Details on schedules and pricing structures will be made available as soon as all parties agree. Reason being, Pro Wrestling Revolution offers you complete Lucha Libre Training, with Head Instructor – Vaquero Fantasma and now Pro Wrestling, we are providing a service that is very enticing.