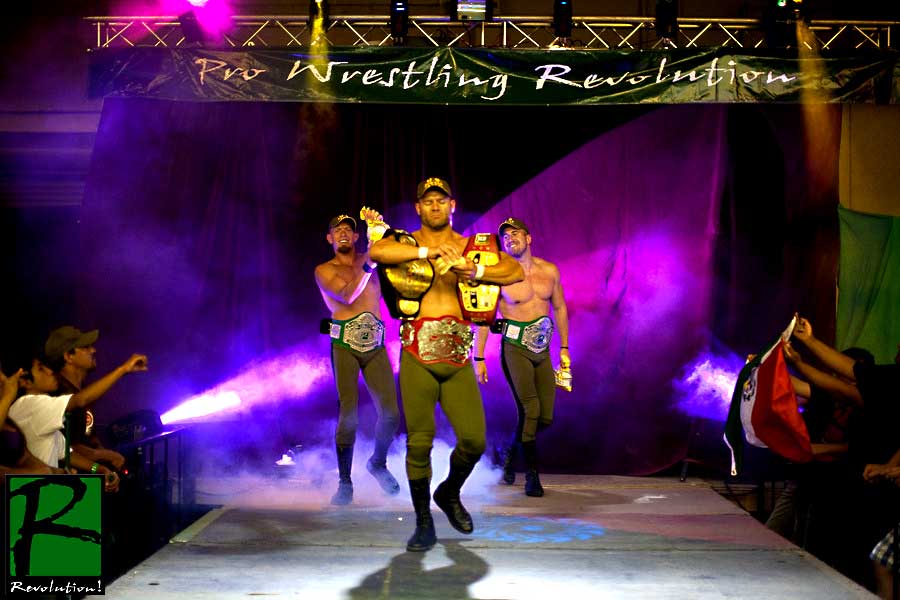 Pro Wrestling Revolution did what it promised and that was to bring a show that the town would not soon forget. The crowd did not know what to expect but they knew they loved it when it was over. The fans loved everything that came their way and we saw some wrestlers step up. The Polyester Express had their best work yet and the Latin Explosion delivered a match that gave us an eruption for the ending, and I don't believe nothing came close it for the rest of the night. We thank all the fans who came out and hope to see them again in October.
The production for this show was just as good as the wrestling, as you can tell by the entrance lightning, video work and images. We are thankful for all the work and look forward to the great work for shows to come.
Mascara Sagrada, Jon Andersen, Blue Demon Jr. over  The Border Patrol
Jon Andersen over Oliver John by Countout
Hijo de Rey Misterio over Vaquero Fantasma
"Latin Explosion" over Border Patrol by Disqualification
Mr. Wrestling IV over El Dragón Oscuro by Pinfall
Polyester Express" w/ "Dazzling" Dixie Lane over Shinobi & Rik Luxury by Pinfall
Cheerleader Melissa over Christina Von Eerie by Pinfall
Images from the show!