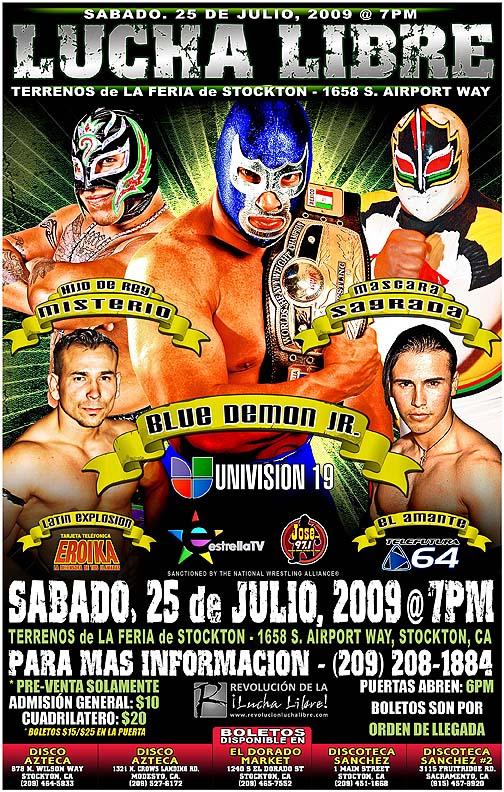 Pro Wrestling Revolution makes its debut in the City of Stockton at the Stockton Fairgrounds on July 25th, 2009. Our debut show has all the makings of leaving its mark on Stockton, like no other wrestling show has done so in many years. The list of wrestlers for this event is strong and all fans are in for a treat.
NWA World Heavyweight Champion Blue Demon, NWA Heritage Champion and Pro Wrestling Heavyweight Champion Oliver John, NWA North American Champion Apollo, Hijo de Rey Misterio, Mascara Sagrada, Pro Wrestling Revolution Tag Team Champions The Border Patrol, Cheerleader Melissa and many many more!
The line up is strong, and what can happen is anybody's guess. If you look at all the names, anything can happen, so expect the unexpected!
NWA WORLD HEAVYWEIGHT TITLE
"El Leon" Apollo vs. Blue Demon Jr.
PRO WRESTLING REVOLUTION HEAVYWEIGHT TITLE
Mascara Sagrada vs. "Border Patrol" Oliver John
GRUDGE SIX MAN TAG MATCH
"Border Patrol" Zack Reeb & Derek Sanders & Vaquero Fantasma
vs.
"Latin Explosion" El Amante & Ulysses & Hijo de Rey Misterio
El Dragón Oscuro vs. Mr. Wrestling IV
Shinobi & Rik Luxury
vs.
Polyester Express" w/ "Dazzling" Dixie Lane
CHICKFIGHT MATCH
Christina Von Eerie vs. Cheerleader Melissa
Get your tickets here!