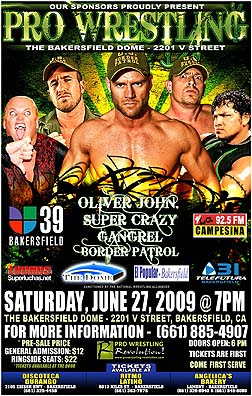 Pro Wrestling Revolution makes its debut in Bakersfield at the Bakersfield Dome. This maybe our debut in the area but we are very familiar as we have had a presence in the area before. This time around we come to you with a flurry of media taking part, from television, radio and print and we hope we can make a difference.
The Dome has had wrestling and lucha librein the past, but we feel we are bringing you something that brings a quality product, from behind the curtain to the ticket takers, don't let past the rocky past fool you.
The line up we have set is strong but with out knowing what is taking place the day before in Santa Maria, we can only assume tempers will be at a high elvel before the doors even open at the Dome in Bakersfield. One thing is for sure, the fueds continue, the action will be top quality and the winners in all of this are the fans. We hope to see old fans and make new ones as we attempt to make Bakersfield and the Dome a new home for Pro Wrestling Revolution.
¡Viva la Revolución!
MAIN EVENT
Blue Demon Jr & Hijo de Rey Misterio
vs.
"Border Patrol" Oliver John & Derek Sanders
SPECIAL ATTRACTION
"Border Patrol" Zack Reeb vs. Super Crazy
INTER-GENDER TAG MATCH
Gangrel & Raisha Saed w/ Fatima Al Hassan
vs.
Mr. Wrestling IV & Rain
"Mystico de Juarez" Incognito vs. Magno
"Latin Explosion" El Amante & Ulysses
vs.
Rockero del Diablo & Vaquero Fantasma
Rik Luxury vs. Jon Anderson
"Rock of Love" Billy Blade & Kadin Anthony
vs.
"Polyester Express" w/ "Dazzling" Dixie Lane
Get your tickets here!