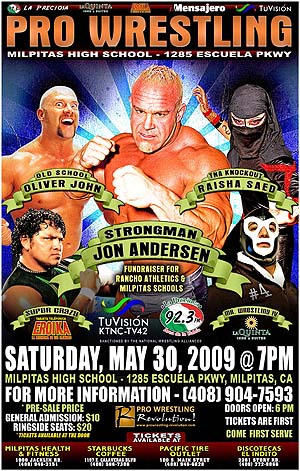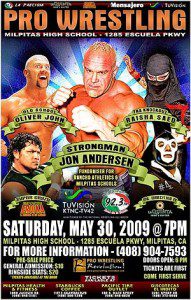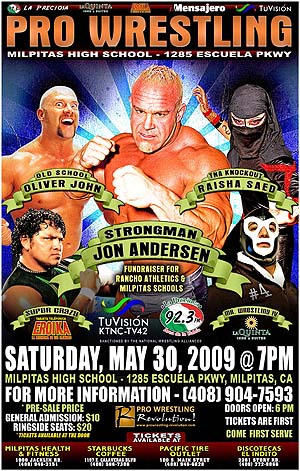 Pro Wrestling Revolution makes its debut in the city of Milpitas at Milpitas High School in a effort to help raise funds for Rancho Milpitas' athletics and music departments. We are thankful for all the help we have received from Principal, Leticia Villa-Gascon. She is so dedicated to her students and the community, we look to do the best for the show and the students.
This show has it all and we can't wait to see it come to life. Making his debut, former ECW and WWE Superstar, he is Super Crazy!
Those are not our only debuting faces, we have  Mystico de Juarez – Incognito, and the most incredible luchador you will ever see, he is the greatest show on earth, he is from CMLL, Mascarita Dorada!
Defending his new won title, Border Patrol's Oliver John defends the NWA Heritage Title, and you never know what will happen next him Oliver John and the rest of the Border Patrol.
MAIN EVENT
Hijo de Rey Misterio & Super Crazy vs. Incognito & Vaquero Fantasma
NWA Heritage Title Match
Mr. Wrestling IV vs. "Border Patrol" Oliver John
MINIS MATCH
Mascarita Dorada vs. Pequeno Pierroth
"Border Patrol" Zach Reeb & Derek Sanders
vs.
El Amante & "Nacho Libre's" El Snowflake
Golden Lion & Chimaera
vs.
Young Bucks
Joey Ryan vs. Rik Luxury
"Polyester Express" w/ "Dazzling" Dixie Lane
vs.
"Strongman" Jon Andersen
Get your tickets here!