A stunning thing happened at last year's Cauliflower Alley Club Reunion show in Las Vegas: Speaking to a packed audience, wrestling legend Harley Race tipped his hat to a wrestling performance given by Go Shiozaki and Oliver John the previous night. "What a magnificent match that was," Race said, speaking of what was widely considered to be that show's match-of-the-night.
The stunning thing wasn't that the match was good — the show was run by a new independent promotion called Pro Wrestling Revolution that had already churned out some pretty intense matches. The stunning thing was that the match was spectacular enough that Harley Race, a veteran himself of intense matches, took the time to recognize the efforts of some lesser-known athletes at an event where awards were being handed out to veterans like Bret Hart and Terry Funk. Although he did his best to conceal it, one could tell that Oliver John, a wrestler struggling to succeed in the tough waters of the independent wrestling scene, was beaming at the compliment.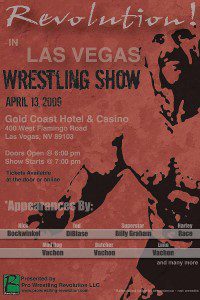 Oliver John will be returning to the CAC Reunion this year, just as PWR will. Pro Wrestling Revolution was a relatively new promotion at last year's reunion show, having only really been born that year. Also known as "La Revolucion de la Lucha Libre" due to its heavy Mexican influence, the promotion started with the stated goal of "not trying to reinvent the sport of professional wrestling, but to take it back to where it needs to be with a mixture of what it has become today."
PWR's promoter, Gabriel Ramirez, had 13 years of experience in the wrestling business, starting back in 1996, working mostly behind the scenes doing everything from setting up the ring to doing videotape dubs. In 2008, he opened up PWR and that's when he was approached by Karl Lauer, the Executive Director of the CAC, who asked him to consider staging a wrestling show at the CAC Reunion.
"I was very fortunate and lucky to be asked," Ramirez recalled. "I guess I just happened to be at the right place at the right time, which seems to be the nature of the beast in pro wrestling."
What made the PWR show at the CAC Reunion so special was that it gave some up-and-coming wrestlers the chance to work in front of the very legends that paved the way for them. "The whole idea of the CAC is to try and give the younger generation the opportunity to wrestle in front of these legends and get noticed," Ramirez said. "It's really hard for these new guys to get a break or even get noticed, and when you have the ability to have your match watched by so many legends and get critiques, feedback and knowledge from so many great minds, it can only make you a better wrestler, period."
The wrestlers who performed in last year's wrestling event at the CAC Reunion had the chance to have their match watched by the likes of Harley Race, Terry Funk, Jim Ross, Nick Bockwinkel, Pat Patterson and others. This year's batch of performers will be watched by Superstar Billy Graham, Ted DiBiase, Ken Patera and other wrestling professionals.
"This business is all about learning more at all times," Ramirez emphasised. "So being able to wrestle in front of the caliber of legends like those, well, the guys can take advantage of that and it gives them one up on everyone else."
Another aspect of the wrestling show at the CAC Reunion is that the legends themselves tend to get into the match. As an example, last year Harley Race led Go Shiozaki to the ring, and Luna Vachon and her old pal, Gangrel, led some of the PWR roster to the ring as well.
Jason Deadrich, the official webhost for the CAC, helped facilitate PWR's appearance at the CAC Reunion and is set to do it again this year. He said watching the legends participate in a wrestling show again — even if it was a small one — was a magical thing to see.
"The wrestling show that takes place on Monday night is a great way kick off the three-day CAC reunion," he commented during an interview. "The show gives us a great opportunity to showcase the younger up-and-coming talent as well as getting the legends involved. Last year's show was a huge success and it was a lot of fun having the legends participate in each match. From Ross Hart working with the females in the ChickFight match to Harley Race in the corner of Go Shiozaki, it's a huge honour to be involved with the show and look forward to the surprises in store this year."
There remain a few openings for those wrestlers who would like the chance to work in front of the legends, Deadrich added. In fact, tryouts are being held before the show on Monday, April 13th, at the Gold Coast Hotel and Casino in Las Vegas. "Potential participants must be a formally trained Professional Wrestler in possession of promo pictures and need to be current members of the Cauliflower Alley Club," Deadrich said, adding that interested participants can pre-register by sending an email to info@prowrestling-revolution.com.
Ramirez and the legends will be watching. "We're looking to find a diamond in the rough," he said. "The Independents are saturated with the same talent over and over, and guys need the chance to get noticed and set themselves apart." He used Oliver John as an example. "Before last year, no one would have known what his abilities were. Now, coming back to his second CAC show, everyone knows who he is. And he recognized the importance of the event too because he cleared his schedule well in advance, as a lot of our guys did. They recognize the significance of this opportunity."
This year's CAC Reunion show will be held April 13-15 at the Gold Coast Hotel and Casino in Las Vegas. Stay tuned to SLAM! Wrestling for stories from this year's event.
RELATED LINKS
Pro Wrestling Revolution website
Fred Johns is the West Coast Correspondent for SLAM! Wrestling, an important-sounding title for a guy that isn't really all that important. Cool, huh?