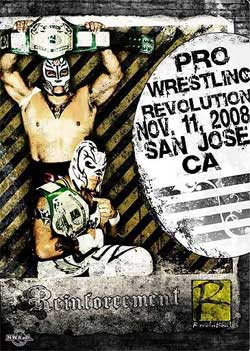 Pro Wrestling Revolution closed the year out where it all started, in San Jose, California. With so many events taking place in the area and the weather making it hard to want to go out and drive, 700 fans came out and showed their support and enjoyed a great night of entreatment… from pro wrestling to lucha libre, it was a great night of action.
The show had a little bit of everything, traditional american wrestling, female wrestling, mini's, continued feud of Los Misterios and the Border Patrol and the crowning of our inaugural champion, Border Patrol's Oliver John.
Thank you San Jose and we will see you in 2009! ¡Viva la Revolución!
PRO WRESTLING REVOLUTION TAG TEAM TITLES
"Los Misterios" – Rey Misterio Sr. & Hijo de Rey Misterio over "Border Patrol" – Derek Sanders & Nathan Rulez

PRO WRESTLING REVOLUTION HEAVYWEIGHT TITLE
"Border Patrol" – Oliver John over "Vampire Warrior" Gangrel

MINIS MATCH
Octagoncito over Mini Border Patrol

NWA HERITAGE TITLE MATCH
TJ Perkins over Mr. Wrestling IV – MPT – Michael Modest

WOMANS MATCH


Cheerleader Melissa over Yyon Nakano

SIX MAN TAG MATCH
El Amante & Ulysses & Vaquero Fantasma over

Chicano & Rey Tigre & Shinobi

"Rock of Love" Billy Blade & Kayden Anthony over Ric Luxury & Jeckles The Jester
"Strongman" Jon Anderson over Matt Carlos & Jay Streets
Click here to purchase your DVD from the "One Stop Wrestle Shop!