We are out of words to describe what took place this weekend. So much happened and we are very proud of our team. We made the debut of our new Revolution Tag Team belts, and it was well worth the wait! Everybody at Pro Wrestling Revolution LLC wants to say thank you, muchas gracias! A picture is worth….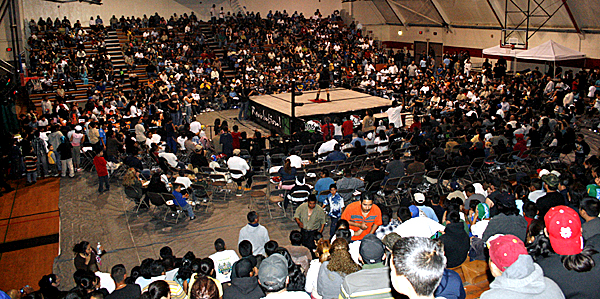 Here are the results:
REVOLUTION TAG TEAM TITLES
Rey Misterio Sr. & Hijo de Rey Misterio overBorder Patrol – Nathan Rulez & Oliver John
WOMANS MATCH
La Nazi over Cheerleader Melissa
Tito Aquino over Mr. Wrestling IV
SPECIAL ATTRACTION
MPT over Gangrel
Billy Blade & Kadin over Brandon Bonham & Bryan Cage
Piloto Suicida & Anarkia & Gladiator Azteca
over
Omega, Viajero , Septiembre Negro Jr.
Jon Andersen over Jeckels
Click here to see the images from the show!