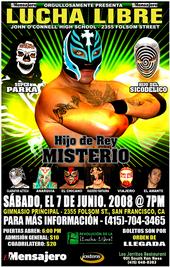 Pro Wrestling Revolution makes it debut in San Francisco on Saturday June 7th with a start time of 7pm. This show is our biggest one to date as the list of names for this show vary from Lucha Legends to a legendary family name taking part of this event. Get your tickets here!
This show is a fund raiser for John O'Connell High School. A big thank you goes out to Coach Bob Gamino who has been a promoting machine to his students and the community. I look forward to seeing our fans at the show and look forward to making new ones.
We want to thank "Los Jarritos" Restaurant and Jostens for sponsoring the show and caring enough to give back. El Mensajero once again is a huge supporter of what we are doing and thank you is not enough for all that they do for the shows and Pro Wrestling Revolution. San Francisco I hope you are ready because we are on our way!
MAIN EVENT
Border Patrol – Oliver John, Derek Sanders, Nathan Rulez
vs.
Hijo del Sicodelico, Super Parka, Hijo de Rey Misterio
SPECIAL ATTRACTION
Jeckels the Jester vs. Former WWE Superstar "Gangrel"
WOMANS MATCH
Lacey Von Erich vs. Cheerleader Melissa
Mr. Wrestling IV vs. MPT
Anarkia & Gladiator Azteca vs. Viajero & Vaquero Fantasma
Rik Luxury vs. Tito Aquino
"Rock of Love" Billy Blade & Kadin Anthony
vs.
Ryan Von Kool & Dylan Drake