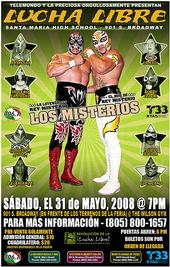 Pro Wrestling Revolution makes its way to Santa Maria High School on Saturday May 31st at Santa Maria High School starting at 7pm. This show shapes up to be a big show for many reasons. We continue our relationship with Telemundo T33, who have been nothing short of excellence in their involvement. We are scheduled to shoot a "Sports" segment the day before of the event which will air during the 6 O'Clock news.
We have 106.7 La Precisosa on board for this show and we are so excited to have them on the team. Since our short time working together we have already have a full schedule for the event. We will be at the Street Fair on the morning of the event and will be present at their booth taking pictures and signing autographs.
We have the card ready and we are excited to see what this show bring us this time around.

MAIN EVENT
Border Patrol – Nathan Rulez & Oliver John
vs.
Rey Misterio Sr. & Hijo de Rey Misterio
WOMANS MATCH
La Nazi vs. Cheerleader Melissa
Mr. Wrestling IV vs. Tito Aquino
SPECIAL ATTRACTION
MPT vs. Gangrel
Billy Blade & Kadin vs. Brandon Bonham & Bryan Cage
Piloto Suicida & Anarkia & Gladiator Azteca
vs.
Omega, Viajero , Bobby Lee Jr.
Jeckels vs. Jon Andersen