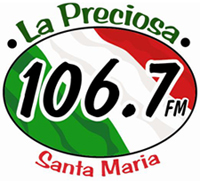 It is with much pleasure to announce that Pro Wrestling Revolution LLC and La Preciosa 106.7 in Santa Maria have come to agreement and will now have them on as our lead radio sponsor. It is very exciting to have a radio presence in Santa Maria, but to have the number one station in the market is exhilarating.
We will be taking part of the Parade at the Santa Maria Street Fair on May 31st. You will see all your favorite Pro Wrestling Revolution wrestlers at La Preciosa's booth signing autographs and taking pictures. So come out to the parade and then make your way to the show as Rey Misterio Sr. and El Hijo de Rey Misterio take on the Border Patrol.
¡Viva la Revolución!