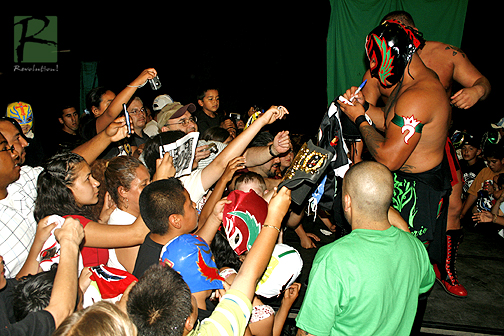 The show is now in the history books and we are extremely proud with our debut event in San Jose at Mt. Pleasant High School. The day was a hot one and as we were there setting up, it didn't help that scheduled black-outs were in order and that would of made the show a hard one to pull off to say the least.
Once the scare was past us and a few black-outs, and the doors opened, the show was ready to start and a giant buzz came over the entire gymnasium.
We are very thankful to all the people that came out to help. From the 60 foot pipe and drape, to the 12 foot entrance way and especially to all who where there at noon getting the ring, chairs, barriers, etc all ready for the show. Once the fans were all settled in, all 708 of them looked on and joined the Revolution! Looking back on the show a full day later, there is nothing we would change, thank you to all. Pro Wrestling Revolution returns to San Jose at Mount Pleasant High School on November 8, 2008.
Here are the results for the show:
Shogun defeated Ultimo Tigre
Jon Anderson defeated Kid Omega
JJ Perez defeated Rik Luxury
Robert Thompson defeated Jeckels the Jester
Ulysses/Chupacabra defeated Billy Blade/Kadin Anthony, Bryan Cage/Brandon Bonham
Minis Match: Octagoncito defeated Piratita Morgan
NWA World Woman's Title Match: MsChif defeated Cheerleader Melissa
Hijo de Rey Misterio, Tito Aquino, MPT defeated The Border Patrol
Click below to see over 600 images: