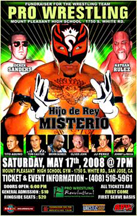 The year of 2008 marks the start of a new breed of professional wrestling in California. Pro Wrestling Revolution is born and is part of the National Wrestling Alliance. With that in mind, Pro Wrestling Revolution will also be know as "La Revolucion de la Lucha Libre". The goal is not to try to reinvent the sport of professional wrestling but take back to where it needs to be with a mixture of what it has become today. One of the major ingredients of Pro Wrestling Revolution is the mixture of Lucha Libre. It is obvious to all, this is something that can not be contained. We have made many friends over the years and we look forward to showcasing these incredible talented luchadores.

We look forward to putting on entertaining shows for all ages and diverse crowds. We already have our first date set for May 17th in San Jose, California at Mount Pleasant High School. We will be working with them all year long. We will be releasing the line up in the very near future but can confirm Hijo de Rey Misterio, Piratita Morgan and Octagoncito.

We are very thankful for all the help and support in putting this together. Come back often for news updates on shows and talent coming in from all over the world.

¡Viva la Revolución!