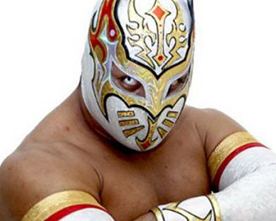 Pro Wrestling Revolution's return to Napa on September 10th is just around the corner and this line up is adjusted a bit and wow, excited to say the least. We have the return of a living legend in Lady Apache, who is also a former 2 time Pro Wrestling Revolution World Womans Champion.
The match up for the Pro Wrestling Revolution, LLC new title, Open Weight, is the first for us and has already caused some waves in Mexico. Luchas 2000 has done a story on this title and excited to see its release.
We look forward to seeing you at the matches!
PRO WRESTLING REVOLUTION OPEN WEIGHT TITLE
El Misterioso vs. "Principe de Oro y Plata" Caristico MX
SPECIAL ATTRACTION
BorderPatrol vs. Los Luchas
PRO WRESTLING REVOLUTION WOMANS TITLE
Nicole Matthias vs. Christina Von Eerie(c)
LUCHA DE MIXTOS
Vaquero Fantasma y Thunder Rosa vs. Gallo Tapado Jr y Lady Apache.
LUCHA INTERNACIONAL 
Arkady Federov w/ Dmitry Romanov vs. El Ultimo Panda
LUCHA DE TERCIAS
Pantera Jr., Psymon Cross & Zucarita
vs.
"El Chicano" Memo Cuevas , Cazador Del Alma, & Grappler III
PRIMERA CAIDA
"Chocolate Papi" Styker Green vs. Karl Fredericks