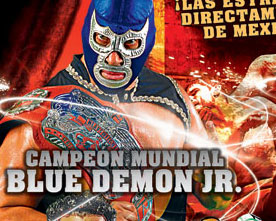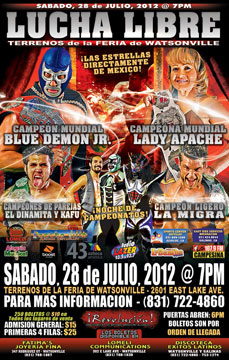 Pro Wrestling Revolution returns to Watsonville on Saturday July 28th with its biggest show of the year! This is "Noche de Campeones"where we will have 4 titles on the line. We have the Pro Wrestling Revolution Heavyweight Champion Blue Demon, Pro Wrestling Revolution Woman's Champion Lady Apache, Pro Wrestling Revolution Tag Team Champions, Kafu and El Dinamita, and we have Pro Wrestling Revolution Jr. Heavyweight Champion "Border Patrol's"  Bryan Cage. all defending their titles!
We have all our sponsors lined up, with multiple radio, television, print, and newspaper and of course, all our fans! This show has the makings of a night that we will all remember and an event that no fan would want to miss. that we are sure of.
Be sure to get your tickets early as only a small amount are available at $10, so don't lose your opportunity for a great deal! We look forward to this great night of Lucha Libre and with a line up like the one booked, you just never know what will happened…. Expect the unexpected!
¡Viva la Revolución!
PRO WRESTLING REVOLUTION HEAVYWEIGHT TITLE
"El Patron" Oliver John vs. Blue Demon Jr.
PRO WRESTLING REVOLUTION TAG TEAM TITLES
Rik Luxary & Famous B vs. El Dinamita & KAFU
PRO WRESTLING REVOLUTION WOMAN'S TITLE
La Diabolica vs. Lady Apache
PRO WRESTLING REVOLUTION JR. HEAVYWEIGHT TITLE
El Mariachi vs. "Border Patrol" Bryan Cage
Sheik Kahn Abadi & Pantera Jr. vs. "Wiggle Wiggle Man" Willie Mac & El Ultimo Panda
"Border Patrol" Derek Sanders vs. El Galan
Cazador del Alma vs. Rey Tigre